BEES Coop will be the first cooperative supermarket, participative and non-profit making in Brussels.
Cooperative and participative?
The "cooperative and participative" model is based on its members' engagement.
The co-operator is: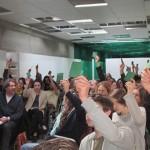 An owner
Every co-operator becomes owner of the cooperative as he subscribes. He makes decisions relating to the organisation and the orientations of his supermarket. In order to promote the financial accessibility, (several kind of units) are foreseen.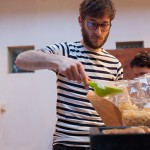 A worker
The co-operator commits himself to working 3 hours per month within the supermarket. The high majority of the tasks is fulfilled by the members themselves, allowing therefore the cooperative to reduce costs and to build up a dynamic cooperative. The members will ensure all the tasks themselves.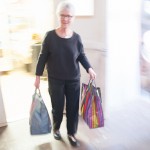 A client
The market is only open to co-operators. The supermarket will provide most high quality and low priced food products, maintenance and hygiene products.
BEES Coop aims for cost-effectiveness, financial independence, without however searching for benefits (no financial dividend). In this spirit, BEES Coop has adopted the form of a cooperative company with limited liability and with a social aim, certified by the CNC (Conseil national de la cooperation in Belgium).
Democratic and innovative functioning?
BEES Coop is a self-managed collective project built by large community of members, involved in various and sundry ways. Concerned about democratic and participative respect, we are working on a horizontal level. That means that the decision-making works out following our principle of "one voice for each person" and the tasks are divided upon several work groups. Tasks are numerous: financial researches, communication, purchase-group management, premises management, products research, members' recruitment, reflexion on social diversity, labelling, delivery, market's associated services, etc. An open coordination team concentrates all information.
Strategic decisions are collectively made during the participative assemblies while the several work groups and the coordination group make the day-to-day decisions. Time of exchange and co-building up (named the BEES construction work) devoted to different themes are often organised. It gives the opportunity to assemble the interested co-operators, to consider together the specific related theme, and to formulate propositions thereof.
For example, two of these "team construction works" were dedicated to the cooperative's future democratic functioning. A group of co-operators was set in order to imagine, in concrete terms, the cooperative's future governance in order for it to become really participative and innovative.